Trusted Video Production Agency for Brand Storytelling
Bridge Creativity and Technology with the #1

Video Production & Marketing

Agency CrimsonCobalt Digital
We are at the forefront of the future of marketing with our expertise in video production. CrimsonCobalt Digital is dedicated to staying ahead of the curve. We help you reach your target audience with the most compelling video content possible. Get your free consultation today.
Reach Out Today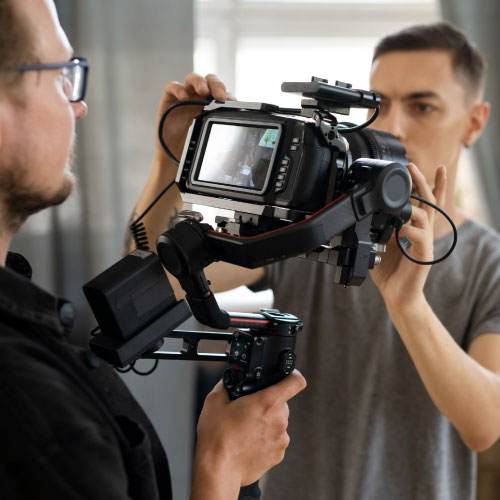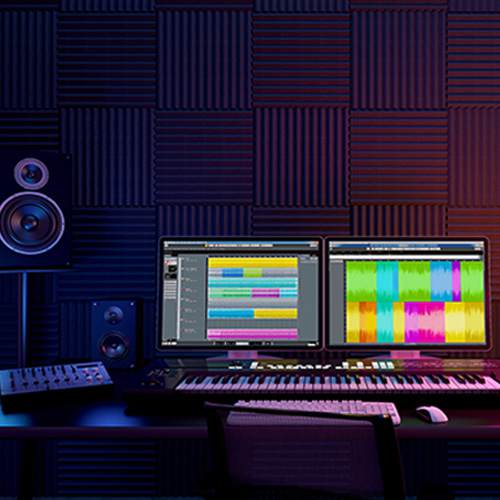 What

is

video

production

and

video

marketing?
Our specialized team provides top-notch Indian video editing and post-production services. Video production involves creativity, scripting, filming, editing, and post-production to effectively convey your message for advertising, entertainment, and informative purposes.
Moreover, as a video production company, we strategically promote and distribute videos to engage your target audience. We optimize videos for various platforms and measure performance. Additionally, we implement a comprehensive strategy to boost brand awareness, generate leads, and increase conversions.
CrimsonCobalt Digital is a team of YouTube marketing consultants for US businesses. We provide a holistic approach combining video production and marketing. This approach incorporates creative storytelling, technical expertise, and strategic distribution to create compelling and impactful video campaigns.
Our specialized professionals collaborate to produce corporate videos, commercials, product demos, and documentaries. Additionally, we create social media videos, ensuring high-quality content that resonates with your audience.
Our Services
CrimsonCobalt Digital offers a comprehensive solution for all your video production needs. From initial planning to final delivery, we handle every aspect of the process.
Script Writing
Share your goals with us, and we'll bring them to life with captivating language and visuals that resonate with your audience.
Production Design
Elevate your video and brand with a visually stunning production design. Our team crafts contemporary, eye-catching designs that captivate your audience.
Casting
We can find the right actors for your project, whether you need men, women, children, or older people. We work with top talent agencies.
Shooting
At the heart of our work lies precision and efficiency. We ensure on-schedule and cost-effective delivery, from essential interviews to complex commercials.
Editing
Despite being a behind-the-scenes aspect of production, editing is crucial in creating a memorable video. The narrative takes shape, and we emphasize the story's emotions, bringing it to life.
Graphic Design/Animation
A simple explainer or a visual representation of a service, animation, or graphical elements effectively simplifies complex ideas. It brings them to life in a way that's not always possible with live-action footage.
Sound & Voiceover
Captivate with our powerful voiceovers and immersive sound design. Top voice artists worldwide in multiple languages. Enhance emotional impact and character development for an immersive video experience.
TVC/Ad Film video production
CrimsonCobalt's TVC/Ad Film production service excels in crafting awe-inspiring narratives. It achieves exceptional production standards, resulting in an actual work of art. They bring your vision to life with meticulous attention to detail. They create visually stunning and emotionally impactful ad films that leave a lasting impression.
Product Videos
We specialize in creating high-quality product videos. These videos showcase your product in the best light, whether for a TV commercial or an e-commerce platform. Our videos feature creative lighting and impactful callouts to highlight each feature, designed to convert website visitors into customers.
Web Promos
We offer comprehensive animation services tailored to your brand, featuring modern and trendy elements. Our web promos and animation videos enhance your online presence and communicate your message. We conduct thorough research to engage your audience and inspire them to learn more.
Corporate/Training Videos
Our team creates high-quality corporate videos to meet your business needs. We design these videos for various purposes, including business development, brand recognition, corporate image, or employee training. We start by understanding your business, sector, and environment. This helps us develop a narrative that aligns with your objectives and resonates with your audience.
Crafting Corporate Communications
Experience the transformative power of our creative expertise in bringing messages to life through innovative video production. We elevate your brand with engaging and memorable corporate communications, utilizing captivating storytelling and visual aesthetics.
Animated Explainer Videos
We bring captivating visuals and an engaging style to life, paying attention to even the most minor details. Our approach simplifies complex concepts for your audience's understanding. At CrimsonCobalt, we thoroughly craft every element to create visually stunning and informative animated explainer videos. Elevate your brand with our expertise in animated explainer videos, capturing attention and delivering your message with clarity and impact.
Infographic Explainer Videos
Experience the captivating and impactful approach to conveying information through our infographic explainer videos. We combine stunning visuals and data visualization with concise storytelling to create engaging videos.
Promotional Videos
Our approach makes complex information easy to understand and retain. Elevate your communication strategy with our infographic explainer videos. These videos capture attention, deliver key messages, and leave a lasting impression on your audience.
Why is video production & marketing important?
Video production is critical as it can communicate, engage, educate, entertain, and reinforce branding. With the emergence of social media and online video platforms, video production has become crucial to many businesses. It plays a significant role in their marketing and communication strategies.
Video production and consulting services hold significant importance for many reasons, including:
Reach Out Today
Communication
Videos offer a dynamic medium for conveying ideas and messages. By providing an immersive audio-visual experience, video production can effectively communicate complex information engagingly and memorably.
Video Branding
High-quality videos can showcase a brand's values, personality, products, or services, establishing and reinforcing its identity. Such videos can increase visibility and credibility and prove an effective marketing tool.
Entertainment
Videos captivate audiences and provide entertainment. Viral videos, web series, and short films are highly engaging and entertaining.
Engagement
Among the various forms of content on the internet, videos are among the most engaging. People prefer videos over articles or static images, which leads to higher engagement and better brand recognition. Videos are also useful in creating an emotional connection with the audience, increasing conversion.
Education & Training
Videos are an excellent tool for education and training. Instructional videos, e-learning modules, and other training content improve learning outcomes and facilitate knowledge retention.
Why Choose CrimsonCobalt's Video Production & Marketing Services?
Impactful Videos
Experience a seamless process with our team. We have 15 years of experience in making ads for top brands. We have simplified our approach to make it easier to understand.
Expand Audience
Stand out with impactful social video advertising that captures your target audience's attention, motivates action, and leaves a lasting impression. Create content that cuts through the noise and delivers an impactful message.
Hassle-Free
Experience a seamless process with us. Our 15 years of expertise in creating ads for top-notch brands guarantee a simple, streamlined, and worry-free approach.
The clarity in video strategies is critical, and we will guide you toward achieving it.
Improve your ROI with engaging marketing videos. We test them thoroughly to make sure they work well.
Enjoy a hassle-free scripting experience with our planned script.
Our full-scale video production covers the three-step process to ensure a seamless and high-quality final product.
We provide exceptional quality by utilizing state-of-the-art technical equipment and professional-grade software.
Affordable pricing with a flexible cancellation policy - If unsatisfied with our service, you can cancel and receive a full payment refund.
Frequently

asked

questions
If you have questions or need more clarity, visit our FAQ section.
You need a budget matching your expectations to produce impactful video content. The required skills, type of production, and time needed to complete the video production determine its cost. Typically, video production costs start at $5,000 or more. Contact us for a quote and discuss the possibilities within your budget.
Most video productions take 6-to-8 weeks to complete. The production process involves multiple stages to create something truly exceptional.
We can accommodate clients who require faster turnaround times. Don't hesitate to contact us via phone for inquiries about our availability! At CrimsonCobalt, we work hard to complete your production on time and within budget.
It is simple! Provide us with your objectives, audience details, deadline, and budget, and we will furnish you with a quote.
Click here to get started.
Once you send the brief, we complete most of the work for you. However, to begin producing your video, we will need to be clear about your objectives and who your audience is.
After that, we will need you to provide your feedback promptly. Again, communication is vital, so consider us an extension of your critical. From storyboards to animation and scripting, we always work closely with you. This ensures you are happy with the direction of your video.
Once a video production is complete, we store the project files for up to 3 years. Within the three-year timeframe, we can rebrand and make necessary changes to the project files.
Our team will guide you through the complete process of creating a compelling video. This includes the scripting process, where our professional writers ensure your message resonates with your audience. If you already have a script, we can review it to ensure it aligns with our visual concept.
We can create any video you are after! However, here are some common examples:
Corporate Videos
It is an umbrella term. A corporate video communicates your business' message to your audience, regardless of the message or the audience.
Using a video as a corporate communication tool allows you to maximize reach and engagement. It helps drive your message home memorably for internal or external purposes.
Get a corporate video targeted toward your employees. It can be a hype video for an internal corporate event or for your ideal customers externally. It all depends on what your end goal is.
Explainer Videos
Explainer videos are short videos that use animation or live-action to simplify complex ideas. We design these videos and motion graphics to be enjoyable for your target audience.
Studies have proven that viewers retain 95% of the message in a video compared to 10% in the text. A mind-blowing half a billion people watch videos on social media every day.
The video makes information easier to understand and remember. It is because your visual system triggers over half of your brain, assisting you to grasp concepts and data more quickly.
So, no surprise that explainers more efficiently popular types of video. Moreover, because of the diverse nature of video content, there are numerous ways to explain your message to your audience clearly.
Get in touch!
Animated Videos
Animation is a powerful way of communicating complex ideas to your audience in an engaging and easy-to-digest manner. Attract your ideal audience by telling your story with animated videos. These videos can promote your initiatives or services and visually bring your message to life.
Animation has no creative limitations, making it perfect for explaining a new app or creating animated idents for your podcast.
Get in touch!
Promotional Videos
Promo videos are essential in the buyer's journey; audiences expect high-quality brand promotional content. Video content engages and highly values viewers, making it an effective way to promote marketing initiatives, products, or events. Video is popular and helps brands promote their products and services to more people.
Corporate videos have a broad range of uses for businesses and brands. Some of the best benefits of corporate video include the following:
Brand Promotion
As a trusted video production agency for brand storytelling, we utilize the power of video to showcase your brand and its values to potential customers and investors.
Product Demonstrations
Show off your product in action to help potential customers understand how it works and what it does.
Recruitment
Use video to give potential employees a sense of your company culture, values, and work environment.
Training
Use video to train employees on new processes, products, or safety procedures.
Event Coverage
Capture highlights from conferences, trade shows, and other corporate events to share with those who could not attend.
Customer Testimonials
Capture highlights from conferences, trade shows, and other corporate events to share with those who could not attend.
Investor Relations
Use video to communicate company updates and financial information to shareholders and potential investors.
Discover

valuable

insights

and

perspectives.