PPT designs are critical for businesses and professionals to communicate their ideas, products, and services. A well-designed presentation can help you engage your audience, persuade them to act, and achieve your goals. However, creating a successful PowerPoint presentation requires careful planning, thoughtful design, and attention to detail. In this post, we'll cover the dos and don'ts of PPT design to help you create compelling and engaging presentations.
Why is presentation design critical?
Before understanding the dos and don'ts of ppt design, we need to understand why presentation design is critical because it significantly impacts the effectiveness and impact of your message.
Here are a few reasons why presentation design plays a crucial role:
Visual Appeal: A well-designed presentation captivates the audience and grabs their attention. Visual elements such as color schemes, typography, images, and layout contribute to the overall aesthetics of the presentation, making it visually appealing and engaging.
Enhances Understanding: Effective presentation design helps convey complex information clearly and concisely. Well-structured slides, visual cues, and graphical representations can make it easier for the audience to understand and retain the key points of your message.
Supports Storytelling: Presentation design helps to tell a compelling story. Through the strategic use of visuals, text, and animations, you can create a narrative flow that guides the audience through your content, making it more memorable and impactful.
Builds Credibility and Professionalism: A well-designed presentation reflects your professionalism and attention to detail. It enhances your credibility as a speaker and creates a positive impression on the audience, signaling that you have put effort into crafting a high-quality presentation.
Engages the Audience: Effective presentation design keeps the audience engaged and focused. Visual elements, such as eye-catching images, infographics, or videos, can evoke emotions and connect with the audience, increasing their interest and involvement in your presentation.
Emphasizes Key Points: Design elements can be used to highlight and emphasize important information or key messages. Strategic use of color, font size, and visual hierarchy draws attention to critical content, ensuring that your key points are effectively communicated and remembered.
Facilitates Retention: A well-designed presentation enhances information retention. People remember visuals more effectively than text alone. By incorporating visuals, diagrams, and other graphical elements, you can help the audience better understand and retain the information you present.
Supports Branding: Presentation design provides an opportunity to reinforce your brand identity. You can create a cohesive and recognizable visual identity that aligns with your brand image by using consistent brand colors, fonts, and imagery.
Let us now understand the dos and don'ts of ppt design that can affect your presentation significantly.
Here is the list of dos and don'ts of ppt design:
The Dos of PPT Designing:
Define your objective: Before starting your PPT designing process, define your presentation's objective. Determine what you want to achieve with your production and the audience's needs, preferences, and pain points.
Keep it simple: Use straightforward language, avoid jargon, and keep your presentation visually clean and uncluttered. Use only essential text and images to convey your message, and avoid using too many animations, transitions, or effects that distract your audience.
Use high-quality images: Images are a powerful way to communicate your message, emotions, and ideas. Use high-quality and relevant images that support your message, and avoid using low-resolution, stock photos or generic images.
Use consistent design: Consistency is crucial in PPT design. Use the same font, color scheme, and design elements throughout your presentation. This creates a cohesive and professional-looking presentation and helps your audience focus on your message. Understanding the presentation dos and don'ts will give better insights and help in enhancing the overall presentation.
Use charts & graphs: Use charts, graphs, and diagrams to convey complex data or statistics in a visually appealing and easy-to-understand way. This helps your audience grasp your message quickly and also supports your credibility.
Proofread and edit: Avoid spelling and grammatical mistakes by thoroughly proofreading and editing your slides.
Test your presentation: Run a test presentation to ensure everything displays correctly and smoothly.
The above-mentioned are a few dos in PowerPoint presentations that should be considered and implemented to improve the effectiveness and engagement of your presentation.
The Don'ts of PPT Designing:
Now let us look in-depth into the Don'ts of PPT Design
Use only a few bullet points: Bullet points help summarize information, but too many can overwhelm your audience and make your presentation boring. Use bullet points sparingly, and focus on the essential issues.
Use only a few fonts or colors: Using too many fonts or colors can make your presentation look more cohesive and professional. Stick to one or two fonts and a color scheme that complements your brand identity and supports your message.
Don't use too many animations: Animations can add visual interest to your presentation, but too many can distract your audience and make your presentation look childish. Use animations sparingly and only when necessary to support your message.
Don't use copyrighted images: Using copyrighted images without permission can lead to legal trouble and damage your reputation. Use only photographs you have the rights to or licensed under Creative Commons.
Don't read your slides: They should support your message, not replace them. Avoid reading your slides verbatim and use them to guide your presentation. Engage your audience with eye contact, body language, and storytelling.
These dos and don'ts of ppt designs are to be considered to ensure that the content reaches the audience effectively and is kept engaging.
You can also check the do's and don'ts ppt template free download. Also, there are multiple do's don ts formats available on the internet that you can utilize to enhance your overall quality.
Here are a few tips to improve your presentation skills:
It is necessary to consider several other parameters mentioned below, along with the dos and don'ts of ppt, so as to improve the overall content relevance and effectivity.
Know your audience: Understand your audience and consider their level of knowledge, interests, and expectations.
Body language is the key: Maintaining good posture, making eye contact with your audience, and using hand gestures will improve the overall effectiveness of your presentation.
Engage with the audience: Interacting with the audience and involving them will create a great atmosphere, and you will understand how well they grasp the content.
Practice thoroughly: Rehearse your presentation multiple times to become familiar with the content and delivery. Practice in front of a mirror, record yourself or present it before your colleagues or friends and ask for feedback.
Remember, a well-designed and well-delivered PowerPoint presentation can effectively convey your message and engage your audience.
These tips become effective if you thoroughly understand the dos and don'ts of ppt design and implement them together.
Effectiveness of verbal communication in PowerPoint presentation: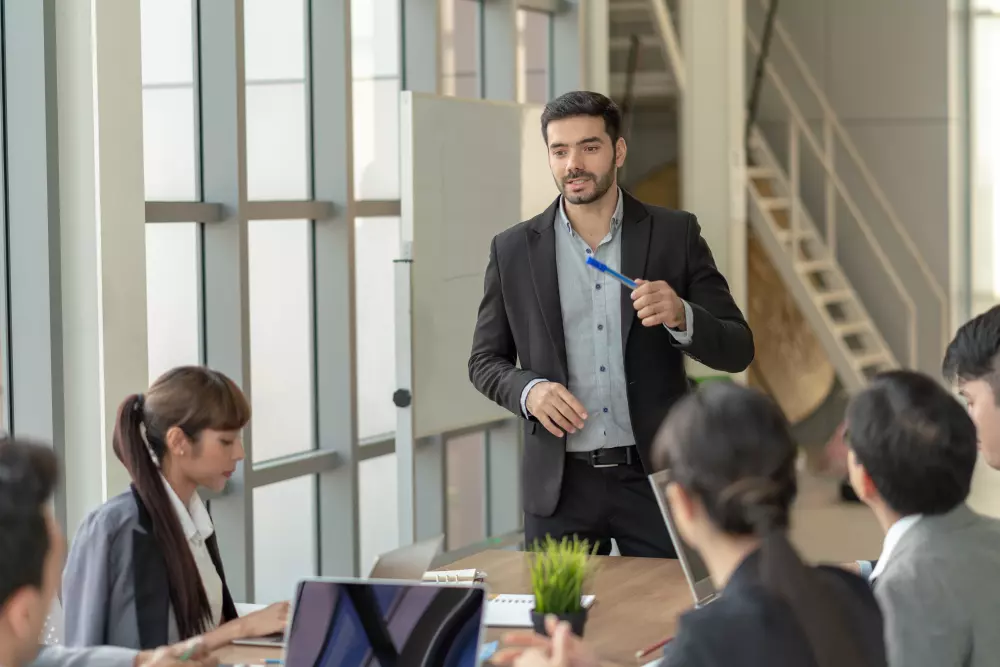 Along with the dos and don'ts of ppt design, here are some key points to consider for enhancing the effectiveness of verbal communication during a PowerPoint presentation:
Clarity and Enunciation: Speak clearly and enunciate your words to ensure your audience understands you. Pay attention to your pronunciation, and articulate your words with proper emphasis. Avoid speaking too fast, making it difficult for the audience to follow your message.
Tone and Inflection: It is a good practice to vary your tone and inflection to keep your audience engaged and interested. Use a conversational and engaging tone to create a connection with your audience. Emphasize key points, use appropriate pauses, and modulate your voice to convey enthusiasm and the importance of your message.
Eye Contact: Maintain eye contact with your audience to establish a connection and build trust. Look at different sections of the room and make eye contact with individuals to create a sense of engagement. Avoid solely focusing on your slides or notes, as it can create a disengaged atmosphere.
Body Language: In addition to understanding the dos and don'ts of PPT design, your body language can greatly impact how your message is received. Stand tall, maintain an open and confident posture, and use appropriate gestures to support your verbal communication. Non-verbal cues such as facial expressions and hand movements can help convey emotions and engage the audience.
Engagement and Interaction: Encourage audience participation and engagement throughout your presentation. Pose questions, ask for opinions, or encourage discussion to involve the audience in the topic. This keeps the audience actively engaged and helps create a more interactive and dynamic presentation.
Pace and Timing: Along with the dos and don'ts of ppt, paying attention to the pace and timing of your speech is necessary. Speak at a moderate pace, allowing the audience to process the information. Avoid rushing through the content or speaking too slowly. Use pauses effectively to emphasize important points, give the audience time to absorb information, and create a sense of anticipation.
Adaptability: Be adaptable and responsive to your audience's reactions and feedback. Pay attention to their level of understanding and engagement. Adjust your communication style, provide additional explanations, or clarify any points to ensure effective comprehension and engagement.
Confidence and Authenticity: Project confidence and authenticity in your delivery. Believe in your message and express it with conviction. Be genuine and authentic in your communication, allowing your personality to shine. This will help you establish credibility and connect with your audience more deeply.
Remember, effective verbal communication in a PowerPoint presentation combines clear and articulate speech, engaging delivery, audience interaction, and adaptability. By focusing on these aspects, you can enhance the impact of your verbal communication and deliver a successful presentation.
These points, if considered along with the dos and don'ts of ppt design, will surely improve the overall power point presentation and can keep the audience engaged throughout.
In conclusion, PPT designing requires a strategic approach, creativity, and attention to detail. Following the dos and don'ts of PPT design, you can create practical and engaging presentations that help you achieve your objectives and connect with your audience. A well-designed PPT with good presentation skills will help in delivering the content effectively.