Developing a brand strategy that drives business growth is crucial in today's competitive marketplace. A well-crafted brand strategy can help differentiate your business from the competition and create a solid emotional connection with your target audience.
Critical steps for developing the best brand strategy for business growth
Define Your Brand Identity
The first step in developing a brand strategy for business growth is to define your brand identity. This includes determining your brand's values, mission, and vision. You should also be able to limit your brand personality and tone of voice, as this will guide your communication efforts.
Start by understanding your target audience.
Determine your brand's purpose and impact.
Identify core values that guide your brand.
If you don't have one, then craft a clear mission statement.
Envision the future with a brand vision.
Engage stakeholders in workshops or interviews.
Research competitors and industry trends.
Define your brand's personality traits.
Communicate consistently across all touchpoints.
Continuously evolve and adapt to stay relevant.
These steps will help you establish a strong brand identity that resonates with your audience and sets your brand apart.
Conduct Market Research
Market research is critical for a brand strategy for business growth to understand your target audience and competitors better. Here are a few important steps:
Analyze demographic data.
Conduct surveys and gather quantitative data.
Organize focus groups for qualitative insights.
Monitor social media channels for trends and sentiment.
Analyze competitor strategies.
Review market research reports.
Utilize customer feedback and reviews.
Monitor online analytics.
Seek expert insights.
These research activities provide valuable insights that can become the core of your brand strategy for business growth decisions. You can use this information to identify your audience's pain points and develop messaging that resonates with them.
Define Your Brand Positioning
Positioning your brand refers to how your brand is perceived relative to the competition. A robust brand strategy for business growth makes it easy to identify your unique selling proposition (USP) and develop messaging highlighting this USP. Some of the brilliant brand growth examples include positioning that consider their target audience's needs and desires. Here are a few quick tips to get positioning right:
Identifying your target audience forms the foundation of your positioning strategy.
Analyze your competitors to differentiate your brand and identify opportunities for positioning.
Identify your brand's key benefits and solutions to address customer pain points.
Determine the personality traits and tone of voice that shape the emotional connection you want to establish with your target audience.
Develop a concise and compelling statement communicating your brand's unique value, target audience, and key differentiators.
Refine and iterate based on the initial insights from internal and key external stakeholders to ensure clarity and resonance.
Consistency across all touchpoints reinforces your brand's positioning and strengthens its impact.
Monitor market trends, customer feedback, and industry changes. Adapt your positioning strategy when necessary to stay relevant and maintain a competitive edge.
Learn Lessons from Philip Kotler, the father of Modern Marketing, to apply to your Online Marketing Strategies.
Develop Your Messaging
One of the critical parts of brand strategy for business growth decisions involves developing messaging that speaks directly to your target audience. A story-telling approach is very effective. You can use the following checklist to develop a great brand strategy for business growth:
Be clear and concise. Emphasize unique value.
Use visuals. Evoke emotions. Spark curiosity.
Encourage and incorporate user-generated content.
Personalize the experience for high user engagement.
Test and optimize. Use A/B testing.
Your messaging should align with your brand identity and core values and be consistent across all communication channels, including your website, social media, and advertising campaigns.
Your visual identity should be consistent with your brand identity and messaging and should reflect in all marketing materials, including your website, social media, and print collateral. Here are some key starting points:
Determine the key brand attributes and personality traits to convey via the visual identity. This includes factors like professionalism, innovation, playfulness, or sophistication.
Develop a distinctive and memorable logo representing your brand's essence.
Select a color palette that reflects your brand's personality and evokes the desired emotions.
Choose appropriate fonts and typography that align with your brand's character.
Develop visual elements such as icons, patterns, or illustrations that complement your brand strategy for business growth.
Document design guidelines that outline the proper usage of visual elements, logo variations, color codes, typography specifications, and clear spacing rules. This ensures consistency across all brand touchpoints.
Implement your visual identity consistently across all communication channels, including your website, social media profiles, marketing materials, packaging, and signage.
Regularly review the effectiveness of your visual identity and make necessary adjustments based on audience feedback, market trends, and brand evolution.
Determine the most effective marketing channels, including digital platforms, social media, content marketing, traditional advertising, public relations, and events, to reach your target audience effectively.
Allocate a budget for marketing initiatives for your r brand strategy for business growth.
Set measurement KPIs before executing your campaign, including share of voice, digital metrics, sales metrics, and more.
Develop Key Messages: Craft compelling and consistent messages aligned with your brand strategy and customized to each platform.
Outline a relevant and engaging content strategy with blog posts, videos, social media content, and other formats that align with your positioning.
Develop targeted media campaigns across platforms, including earned and paid media.
Execute your marketing plan across selected channels. Monitor the performance of your campaigns, track key metrics, and gather feedback to measure the effectiveness of your brand marketing efforts.
2022 and 2023 have seen the emergence of a sustainable brand strategy for business growth example in almost all the major industries. Sustainability communication has played a crucial role for several companies that have positioned themselves as a trusted and preferred choice for environmentally-conscious consumers, driving business growth and expanding their market presence.
Unleash your brand's full potential with CrimsonCobalt Digital, the true brand strategy expert. Contact us today to know companies we have helped and their brand growth strategy examples.
Key metrics to track brand strategy for business growth performance
Brand KPIs
Brand Awareness: You can measure the level of awareness and recognition of your brand among the target audience. A before and after study helps, and you can assess this via surveys, brand recall tests, social media mentions, website traffic, and search volume.
Brand Perception: The idea behind a brand strategy is to improve the positive sentiment around your brand. Evaluate how customers and stakeholders perceive your brand on factors such as brand image, reputation, perceived value, differentiation, and emotional connection. Surveys, focus groups, and sentiment analysis can help gather insights into brand perception.
Brand Equity: Assess the financial value and strength of your brand. Key metrics include brand valuation, loyalty, customer lifetime value, and market share. This data can be obtained through financial analysis, market research, and customer retention and acquisition metrics.
Brand Advocacy: Assess the willingness of customers to recommend and promote your brand to others. Net Promoter Score (NPS) surveys, customer reviews, testimonials, and social media mentions can provide insights into brand advocacy.
Brand Consistency: Measure the consistency and alignment of your brand across different touchpoints and channels. Assess visual elements, messaging, tone of voice, and brand guidelines adherence. Regular audits and assessments can help identify inconsistencies or gaps and steer your brand strategy for business growth.
Stakeholder Consideration
Customer Engagement: Measure customer engagement and interaction with your brand with metrics such as website traffic, social media engagement (likes, shares, comments), email open rates, click-through rates, and customer participation in events or promotions.
Employee Alignment: Evaluate how employees understand and embody the brand values and messaging. This can be assessed through employee surveys, internal communications, and alignment with brand guidelines in employee behavior and customer interactions.
Brand viz. Business Goals
Sales Revenue: Track the revenue generated from brand-related activities or campaigns, directly attributing the impact of your brand strategy on business growth. This may become the most important metric for a brand strategy for business growth for most organizations.
Customer Acquisition Cost (CAC): Determine the cost incurred to acquire a new customer. Calculate the total expenses associated with acquiring customers, including marketing and sales costs, divided by the number of new customers acquired.
Customer Lifetime Value (CLTV): Assess the total value a customer brings to your business throughout their entire relationship with your brand. This metric helps evaluate the long-term profitability of acquired customers.
Social Impact and Responsibility: Measure the effectiveness of your brand's social impact and sustainability efforts. Assess indicators such as community engagement, environmental impact reduction, social responsibility initiatives, and alignment with the United Nations Sustainable Development Goals.
Return on Investment (ROI): Assess the financial impact of your brand strategy. Analyze the cost-effectiveness of brand-building activities and campaigns. Measure metrics such as revenue growth, customer acquisition costs, customer lifetime value, and brand-driven sales.
Competitive Positioning: Evaluate your brand's position relative to competitors. This can involve market share analysis, brand perception comparisons, pricing analysis, and tracking key performance indicators (KPIs) against industry benchmarks.
By tracking key parameters, businesses can gain insights into their brand strategy for business growth and its effectiveness, identify improvement areas, and make data-driven decisions to strengthen their brand presence and impact in the market.
Why is digital marketing vital for maximizing brand presence and engagement?
Digital marketing has become integral to successful brand strategies, offering unparalleled opportunities to connect with target audiences and drive business growth. By incorporating digital marketing into your brand strategy for business growth, you can maximize audience engagement and create meaningful interactions for long-term value generation. Here are compelling reasons why digital marketing should be at the core of your brand strategy for business growth:
Engage in two-way communication to build relationships and establish trust.
Maximize audience engagement and fuel brand strategy for business growth with digital marketing at the core of your brand strategy.
Leverage digital channels for wide reach and accessibility.
Target and segment your audience for personalized messaging and relevant interactions.
Utilize data and analytics to make informed decisions and optimize your marketing efforts.
Benefit from cost-effective solutions and flexible budget allocation.
Measure results and track performance to drive continuous improvement.
In today's scenario, when brand loyalty is a forgone cause, storytelling plays a pivotal role in capturing the attention and hearts of consumers. It goes beyond promoting products or services and creates a narrative that resonates with the audience, forging an emotional connection and increasing the probability of fostering brand loyalty.
Storytelling humanizes a brand, allowing it to communicate its values, mission, and purpose in a compelling and memorable way. By crafting authentic and engaging stories, CrimsonCobalt has helped several brands to differentiate themselves in a crowded marketplace, evoke emotions, and leave a lasting impact on consumers. Whether through advertising campaigns, content marketing, or social media, effective storytelling has the power to shape brand perception, influence consumer behavior, and deliver exceptional brand strategy for business growth.
In conclusion, developing a brand strategy for business growth requires a comprehensive approach that considers your brand identity, market research, messaging, visual identity, brand distinction and positioning, and brand marketing plan. Following these steps, you can create a solid and memorable brand that resonates with your target audience and drives business growth.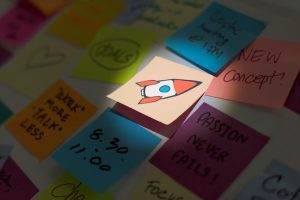 Fill out this form to learn how CrimsonCobalt Digital can help you with a 360° brand communication solution.